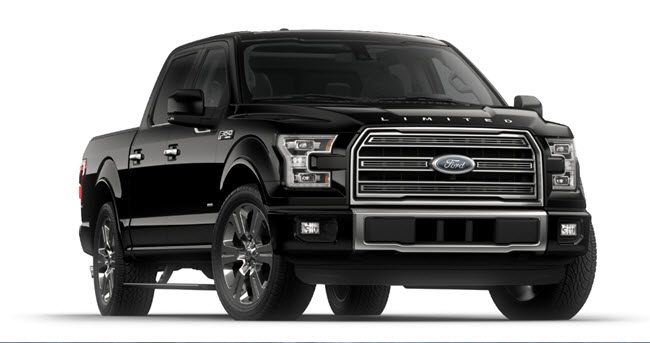 Miami FL - 2017 Ford F-150 Limited
The Miami Florida 2017 Ford F-150 Limited Edition is a great pic for Miami Florida residents who wants a straight-up powerhouse. This husky Ford F-150 workhorse is the perfect solution for people who have contract work, tools they have to carry or things that they have to move frequently. This is a great model for the Miami Florida long-term truck lover, and it can even work well for a person who is a beginner in the truck genre. Its size is just right. It's not too large and bulky, but it's not a pee-wee version of a truck either. It has quite a bit of frame to it. The following are some details that may interest you if you are considering the F-150 Limited Edition. 
2017 Ford F-150 Limited Interior
The interior of the 2017 Ford F-150 Limited is geared up for comfort and fun. The first thing you will notice about the F-150's interior is the fluffy and gorgeous leather seats. You will also be able to enjoy a heap of interior features like the power inverter, 360-degree camera, productivity screen, steering wheel controls, leather floor mats and the like. The truck is set up to accommodate you in every way possible. You will be pleased with what you see in 2017 at the Miami Ford dealer. 
2017 Ford F-150 Exterior
The design of this model truck is astonishing. It is cut with the hand of elegance. Its arrogant frame lets people know that it knows it's something special. Some of the color options that you have for this model are colors such as Race Red, Caribou, Lightning Blue, Shadow Black, Oxford White and so many more. The 2017 Limited Edition has fog lamps, grille insert, satin finish and more. You will be able to build yourself an attractive truck that can accompany you through even the most strenuous of tasks. Ask the Miami Ford dealer for Metro Ford 2017 F-150 quotes today.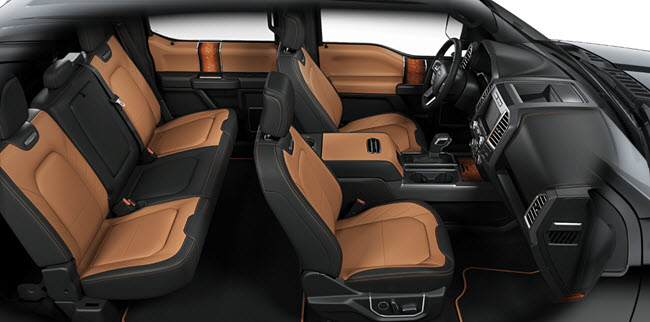 F-150 Mechanical Features
The mechanical features are abundant on this model. You will have access to features such as the AM/FM Stereo, SYNC 3 connection system, Navigation, SiriusXM satellite radio, heated seats, Voice Activation, Dual Zone Temperature control, camera, dome light and so much more. Ford put enough emphasis on the mechanical aspects of the vehicle to create a comfortable vehicle for you to spend your time inside of as you take your journeys to various parts of the world. Ask your Miami for dealer for Metro Ford 2017 F-150 quotes so that you will know how much you have to spend to get those amazing mechanical features. 
The Powertrain
If you were wondering if the Ford F-150 had enough power and speed for you, you do not have to worry about that any longer. The model has all the hauling capacity, power and speed that you need as well as fuel efficiency that you also need. The truck comes with a powerful 3.5-Liter EcoBoost engine with the capacity to hold 23 gallons of gas and get an above-average amount of fuel-efficiency from it. You can feel confident that you will get to your destinations quickly, and you can conduct towing jobs for people without burning your gas out quickly. You also have the option of selecting a 5.0-Liter motor with an eight-cylinder FFV engine. 
Safety Features
Get Metro Ford 2017 F-150 quotes from the Miami Ford dealer so that you can make sure you purchase one of the safest trucks on the market. The safety features are abundant on this truck. You can feel safe and secure knowing that your truck has features such as Remote Start System, Tire Pressure Monitoring System, Curve Control, BLIS, Antilock Brakes, Second-Row Safety Belts and the Crash Alert System and more. Tire Pressure Monitoring System helps you avoid nasty accidents that can end up costing you thousands of dollars. A large percentage of blowouts can be avoided if the vehicle owner has an alarm system like this one. The Remote Start system can help you get your truck started during cold weather situations. All the features are put in place to make your experience in the vehicle greater for you and to give you more confidence during your travels.  The truck could look fabulous to you from where you stand, but you will never know if it is the right vehicle for you until you get into it and take it for a test-drive. A test-drive is a long spin around the block that you go on with the salesperson when you like a vehicle. The drive allows you to closely examine various aspedcts of the vehicle such as the features, comfort level, speed and overall response from passersby. If you like the experience you have in the truck, then you can negotiate with the salesperson on details such as the selling price and so forth. The final step is to hook up with someone from the finance department and get started on a plan for your payments and such. The finance department takes information about your payroll, down payment, credit and trade-in and then tries to connect you to an amazing deal. The agent will do the best that he or she can to get you a deal that will work well with your budget and lifestyle. Contact a dealership now to set up your first appointment.