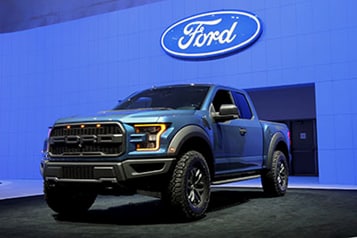 The F-150 has been a staple in Ford's annual lineup of new vehicles since the 1970s, and is becoming more powerful year after year. Considering the improvements that have been made in recent years, the 2017 model is not likely to disappoint.
Boasting a bare minimum of 385HP, the F-150's 3.5-liter turbo V-6 engine can pull over six tons of weight in tow with no problem-meaning your camper or bass boat won't slow you down on your way to the great outdoors. You won't have to stop for gas too often, either. The F-150 gets a solid 19 highway miles-per-gallon, meaning its 23-gallon tank will only need to be filled every 430 miles.
The F-150 is about as safe and sturdy as they come. Featuring Electronic Stability Control, Roll Stability Control, ABS and Driveline Traction Control, you can be sure that you'll get where you're headed when behind the wheel. If something does happen, though, you can rely on the F-150's Dual Stage Driver and Passenger Seat-Mounted Side Airbags to keep you safe in the event of an emergency. If you find yourself in serious trouble, the F-150 Raptor includes an enhanced voice recognition and 911 assist system.
And let's not skip over the extra features. The F-150 Raptor comes with a 4.2" LCD display in center console, Applink, 1 smart charging USB port, and 2 LCD monitors in the front.
Whether you're preparing for a hard day of manual labor or gearing up for a weekend camping trip with the family, the F-150 makes it all manageable. No wonder it consistently ranks among the best-if not the best-full-sized pickup truck year after year by Car and Driver.