2017 Ford Mustang Product Description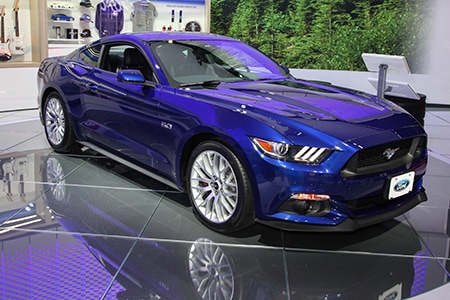 When making a list of the most well-known and successful sports cars of all time, the Ford Mustang always ends up near the top of the list. And the 2017 version is no different.
The standard V6 Coupe model clocks in at 300HP, while the GT350 reaches over 500HP. In other words: it gets you where you need to be - fast. Considering the Mustang is one of the heavier sports cars available, it still has some zip to it, and handles well without sacrificing comfort.
Speaking of comfort, you'll always feel safe and secure behind the wheel of your Mustang, too. With standard features such as cruise control, brake assistance, a reverse sensing system, and front, side, knee, and curtain airbags, you'll be prepared for any emergency situation you might face. Perhaps that's why the Mustang has earned a 5-star overall safety rating from the NHSTA.
When you get where you're going and need to lock up your Mustang, you'll be able to rely on the optional Enhanced Security Package to keep your car and belongings safe and sound. Included in this package is an Electronic Steering Column Lock, a Theft-Deterrent System, and an Electronically-Locked Center Console.
And, of course, there's the extra features. The 2017 Ford Mustang comes standard with Bluetooth capabilities, including text-to-speech and speech-to-text technology. The optional Electronics package provides you with a built-in GPS ensures you always know where you're headed-or can find your way back if you just felt like driving for a while and end up God knows where (we don't blame you). In addition to this, the Electronics package includes a 9-speaker sound system so you can listen to your favorite tunes while reaching top speed (ahem, top legal speed, that is) on the highway or while taking the back way home.
Test drive the new 2017 Ford Mustang as soon as it arrives. Just promise you'll bring it back soon.